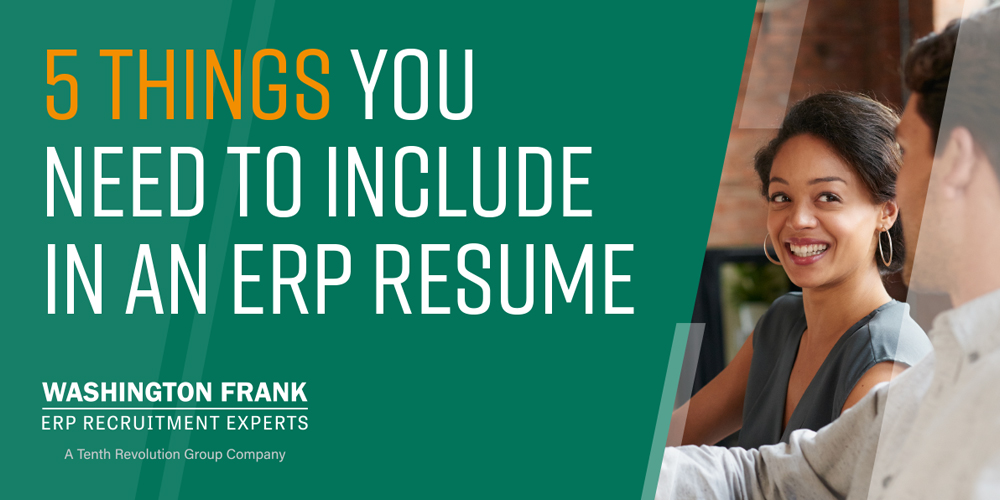 Looking for a new job, or is it simply time to update your existing resume? This blog will answer one of life's many unanswered questions: what are the 5 things you need to include in a successful ERP resume?
ERP systems have quickly become the backbone of many organizations, big and small, due to their ability to manage a variety of critical business processes. The extent of these systems' potential is complex, to say the least, so the need for individuals that are adept with ERP knowledge is bigger than ever before. With a shortage of qualified professionals, there is a definite advantage for job seekers to fill the gaps.
This handy guide will detail everything you should be including to get noticed as a skilled ERP professional and up your chances of bagging an interview.
Technical skills
It may seem obvious, but your technical skillset should take priority in your resume. Detailing what you can do from the outset gives your potential employer the confidence that you know to implement and manage the different hardware and software. You should also mention knowledge of APIs and connectors, alongside AI technology, RPA, and data management. In the current business climate, where the skills gap is an ever-growing issue, showing that you have the skills they are looking for is a definite foot in the door.
While your resume may seem the best place to list all of your abilities, this isn't necessarily the case. Employers will spend 6-7 seconds on average reading your resume, so it should be concise, giving a snapshot of skills tailored to the job you are applying for.
Experience
If a business is going to trust you to reshape their work processes, they are more likely to go with a candidate who has ample industry experience with a variety of different vendors. Having experience that shows a technology-agnostic approach opens you up to a variety of different positions and demonstrates that you can tackle any challenges, no matter what ERP system is in place. Backgrounds in business or technology are a great thing to mention, with some companies also looking for experience in accounting or finance. You should also make note of what types of implementations you have used in the past, whether this is experience with cloud, on-premises, or hybrid implementation. Depending on the structure of the company, this could be a deal-breaker!
This doesn't just extend to past employment; a desirable candidate will also have academic experience. Most ERP professionals have a bachelor's degree, in fields such as IT or computer science, with some having business administration degrees also. While it's not always necessary, it's definitely a helpful hand in showing you have the functional knowledge needed for the role.
Certifications
If you don't have academic experience or a background in an ERP-related sector, this can be a great way to distinguish yourself as a serious candidate.
Being certified with various ERP systems looks great on your resume. It not only shows your commitment to your role by having undergone comprehensive training but demonstrates your understanding and expertise. The more knowledge of the features and functions of ERP systems you can display, the more confidence and trust you will inspire.
There are various ERP certifications out there, including Oracle, Infor, SAP, and Microsoft. No certification is the same so have a variety of these in your toolbelt!
Soft skills
While technology is the focus of the role, ERP implementation also requires strong soft skills. Skills such as collaboration and teamwork are a necessary part of the role, so make sure that these features are included in your resume. For your position to be a success it's not just your work, but how you work with others that will come into play.
Communication skills will also play a large part in your role as your position will also include training other personnel in the system. This also extends to written communication. Part of this communication means understanding how to build relationships within your new organization. Change can be unsettling within an organization, so having the ability to empathize and potentially compromise is key.
Having these core skills shows you can professionally conduct yourself in the workplace while also giving your future employer a good idea of your personality.
Stats 
A great way to show your capabilities is by providing metrics, it shows the employer the breadth of your abilities while also showing if you can help continue the growth of their business. There should be a degree of modesty in your resume, however, including that you "helped to aid efficiency by 110% within 3 months" incentivizes hiring you over another candidate. If you demonstrate how you have implemented systems that have yielded results in the past, it substantiates your position and could be the deciding factor for a company unsure of the success rate of ERP.  
Now you've read our guide, it's time to take a look at your own resume and see what you can do to make it stand out amongst other applicants!  
Be the first to apply to for ERP jobs
Subscribe to our free daily job alert and have the latest roles delivered straight to your inbox.