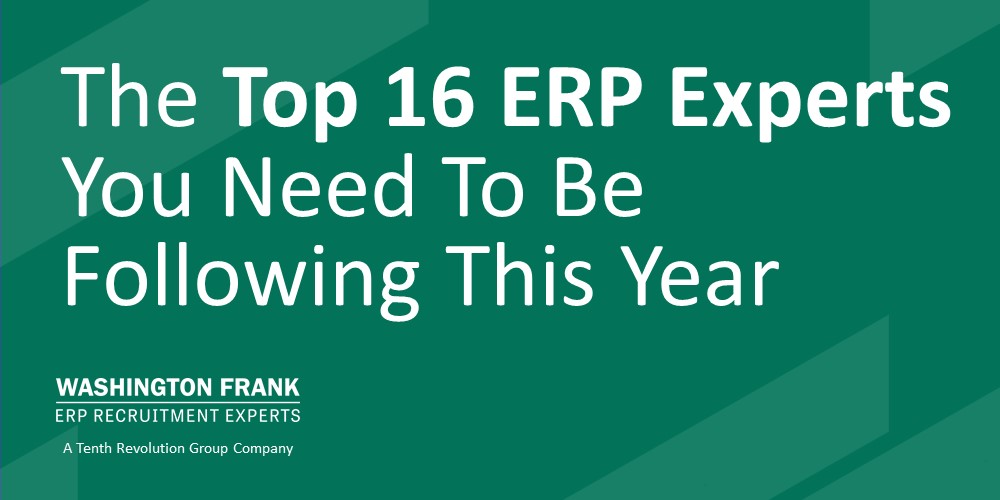 Do you wish you could find all the top ERP influencers to follow all in one place?  
Enterprise Resource Planning (ERP) can be a complicated process and an immense task to plan and implement, with each system having various functionalities and each vendor providing different benefits for your business. That's why you ought to be following the top ERP influencers for all the latest insights into the ecosystem.  
But who are the experts within the field; the big brains behind the processes who understand the ins and outs of the technology?  
Look no further as we've created this handy guide of all the experts in the field that you should be following, alongside links to their LinkedIn and Twitter accounts, for all the latest news within the ERP ecosystem.  
Note: These are in alphabetical order.  
Anya Ciecierski
Anya is the Co-founder of ERP and CRM Software Blogs. She has vast knowledge in both ERP and CRM and regularly shares on her LinkedIn valuable tips and information within both industries. ERP and CRM Software Blogs are successful resources that encourage collaboration to provide articles full of advice and information. Each month these blogs receive over 90,000 visitors who are all searching for the invaluable information that is shared.   
Anya emphasized the importance of research and planning when it comes to finding the right software for your business:  
"Choosing the right ERP software is not the complete answer. You also must be sure you do the research to choose the right Partner/consulting firm to help you implement and adopt the new software. The ERP software can check all the boxes for functional requirements. But if it is not set up correctly, if your users are not trained on how to use it and adapt to the change, you will not be successful. Ask for referrals, talk to the consultants, read blog posts the company has written to try and evaluate if they really understand your industry and you like their style."  

 – Anya Ciecierski, Co-Founder, ERP/CRM Software Blogs  
---
Barbara Westly
Barbara began her career as an experienced accountant, before PCs arrived, where she found her love for technology and design systems that streamline workflows. Now her current role is Business, IT and ERP Consultant at Dimensional Business Solutions.  
With technology changing rapidly she also branched out into social media marketing and cloud computing, specialising in ERP software and system implementation, data conversion, workflow design, business processes, custom programming, IT management, resource planning, and project management.   
---
Cindy Jutras
Cindy has over 35 years of experience in applying software solutions. As President and Founder of Mint Jutras, an independent research-based consulting firm that specializes in analysing the business impact of enterprise applications, she has experience in a wide range of enterprise applications with deep domain experience including manufacturing, supply chain, enterprise performance, and financial management. Cindy is also a published author with numerous magazine articles, hundreds of research documents, and a book called 'ERP Optimization: Using Your Existing System to Support Profitable E-Business Initiatives'.     
---
Dan Aldridge
Dan is a manufacturing and ERP software enthusiast who knows your pain points to assist your business. He is currently the Managing Director of Priority Software USA and the CEO of Performa Apps ERP. The company has over 20 years of experience implementing ERP systems like Baan, Infor LN, and Priority Software. As an Infor LN consultant with over 15 successful Infor ERP implementations under his belt, including Flextronics, Progress Rail, Snap-on, Blue Bird, Busch, and more, he shares his knowledge and advice regularly on his LinkedIn and Twitter.  
---
Dana Gardner
Dana is the Director of Content at Traceable AI, and the President and Principal Analyst at Interarbor Solutions. He has been described as a creative thought leader in the software-defined hybrid cloud, IoT, big data, and digital transformation. Beginning as a journalist and editor in global technology industry news, he then developed into a research analysis specialist and continued to then work as a Lead Analyst on enterprise projects and strategies, sharing his vast knowledge on his LinkedIn and Twitter.  
---
Eric Kimberling
Eric has served as an ERP and SAP expert witness in the industry's highest-profile legal cases across the globe. Currently CEO and Founder of Third Stage Consulting Group, he is an expert in organisational change management, project management, implementation, and evaluation of ERP systems. He has dedicated himself to giving keynote speeches at industry conferences and universities worldwide and has been quoted in thousands of articles in newspapers, magazines, and books. He is also the author of the acclaimed book, 'Lessons from 1,000 Digital Transformations' and has his own YouTube channel where he is joined by other thought leaders in the industry to discuss important topics and share valuable advice.
---
Frank Scavo
Frank is Senior Partner and President at Avasant and also President of Computer Economics, a service of Avasant Research. Computer Economics is a research and advisory service providing metrics for IT management. His research focus includes IT spending and staffing benchmarks as well as original research on technology trends, outsourcing statistics, IT management best practices, and IT equipment valuations. He also writes a personal blog, The Enterprise System Spectator.  
---
Holger Mueller
Holger is VP & Principal Analyst at Constellation Research. He provides strategy and counsel to key clients, including chief information officers, chief technology officers, chief product officers, chief HR officers, investment analysts, venture capitalists, sell-side firms, and technology buyers. His main focus areas are next-gen apps and the future of work, human capital management, and tech optimisation. Mueller has presented at numerous trade shows and industry events and writes his blog on enterprise software.
---
Lauren Horwitz
Lauren is Editor in Chief at Dynatrace. She was previously Senior Executive Editor in the Business Applications & Architecture group at TechTarget. She is highly experienced in writing about cloud software and has vast amounts of knowledge about ERP systems and processes, sharing information and tips on her LinkedIn and Twitter regularly.
---
Lisa Anderson
Lisa is President of LMA Consulting Group, specialising in the supply chain, ERP and S&OP to help manufacturers and distributors elevate business performance. She provides expertise and advice on maximising the customer experience and enabling profitable, scalable, and dramatic business growth. Arketi named her a Top 40 B2B Tech Influencer and she has been ranked by SAP as a Top 46 Supply Chain Influencer. Lisa has also spoken at conferences such as the Global Supply Chain & Logistics Summit, the APICS International Conference, and the Drucker Supply Chain Forum, and has a book called 'I've Been Thinking: Turning Everyday Interactions into Profitable Opportunities'.
---
Louis Columbus
Louis is a Software Product Marketing and Product Management Leader with experience in marketing management, channel and direct sales with an emphasis in Cloud, catalogue and content management, ERP, MES, and Quality Management systems. His passion is creating and launching new enterprise applications, leading industry solutions teams, and their go-to-market strategies based on competitive, market, and pricing analysis. He is also an Editor for Forbes and he writes frequently on his personal blog.
---
Margaret Harrist
Margaret is a Director of Communications at Microsoft, with 20 years of experience focusing on thought leadership and executive communications for several of Oracle's strategic cloud initiatives. Margaret provided content for several of Oracle's top strategic initiatives, including ERP, Artificial Intelligence applications, and supply chain, with a slant on how emerging technologies like AI, blockchain, and Internet of Things will radically change the business environment. She also writes for Forbes regularly and you can find a list of all of her articles she has written.
---
Michael Krigsman
Michael is the Publisher of CXOTALK. For three decades, he has advised ERP technology companies on market messaging and positioning strategy, written over 1,000 blogs on leadership and digital transformation and created almost 1,000 video interviews with the world's top business leaders on these topics. His work has been referenced in the media over 1,000 times and in over 50 books. He is highly skilled in ERP and CRM and actively shares events and informative articles on his LinkedIn and Twitter accounts.
---
Rndy Bias
Randy is a recognized influencer in cloud computing, working as an entrepreneur, writer, speaker and futurist. He is currently Co-owner of Fight Club Philippines, but has vast amounts of experience in providing advisory services around modern enterprise applications and is an advocate for open source technology as a foundational business model element in companies. Randy was declared a top 10 cloud pioneer by InformationWeek and Digital Influencer by Forbes and was among the first to articulate the technological and cultural drivers that defined the success of hyperscale cloud as a segment of the global IT spend.
---
Shivmohan Purohit
Shivmohan is an Oracle Practice Director at ROSTAN Technologies. He is an expert in Oracle applications and has been operating a website called Known Oracle, which focuses on sharing knowledge and information about Oracle ERP with other ERP consultants. The site is rated as a top destination for Oracle users and consultants, with over 10,000 visits per week.
---
Simon Porter
Simon is currently Senior Vice President at Alight Solutions for Europe and Latin America. He is a general manager with broad experience in marketing, sales, and deal-making. His years of experience have allowed him to establish international start-up businesses and lead large billion-dollar units to enable sales and marketing, capturing the new delivery and consumption models of SaaS and Cloud as well as reaching new buyers with digital and social marketing techniques. With his great knowledge of ERP, Simon helps large enterprises transform their HR services through the transformation of their service delivery models. He partners with leading solutions such as SAP, Oracle and Workday.  
Don't forget to follow these accounts for the latest ERP news and opinions. While you're there, give us a follow @washington_frk on Twitter and search for Washington Frank International on LinkedIn to follow us there.
Be the first to apply to for ERP jobs
Subscribe to our free daily job alert and have the latest roles delivered straight to your inbox.