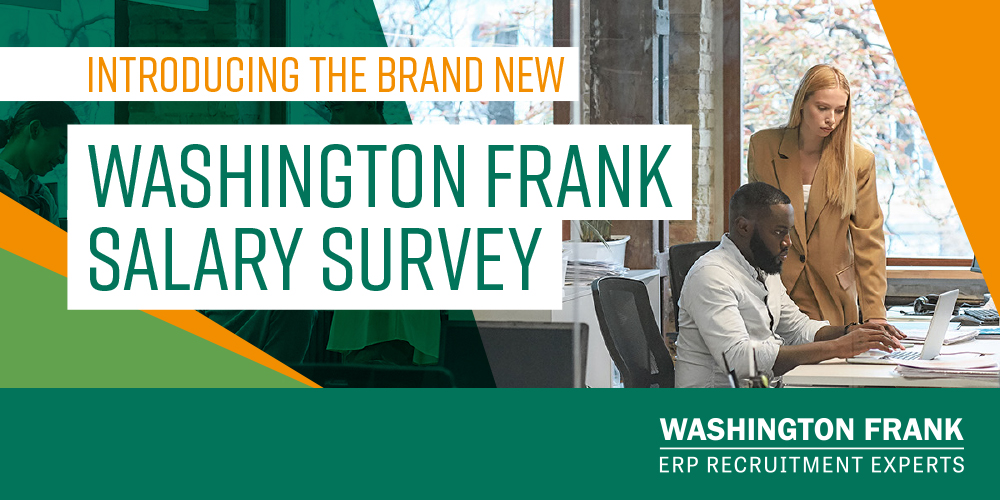 Washington Frank is excited to be unveiling its 2022/23 Salary Survey—and we need your help to make it the best it can be!
Industries both traditional and cutting-edge are now dependent on tech infrastructure on a level that has never been seen before. Demand for ERP platforms is skyrocketing in line with that as businesses seek to adapt to an increasingly digital age, meaning competition for software talent is on the up, and the very landscape upon which industries are built is evolving rapidly.
In light of all this change and opportunity, we want to hear your opinion on how this has affected you whether you're an employer or employee of an organization working with ERP products.
The Washington Frank Salary Survey is an invaluable resource for the ERP ecosystem, allowing professionals to gauge their worth and helping employers attract and retain the best talent. It gives you access to unique insights into the ERP job market, as well as the inside scoop on what your peers across the ecosystem are earning. The report is a vital tool in making sure you're fully up to date on everything you could possibly need to excel in your field.
For employers, it gives you the most comprehensive view on employee sentiment—what attracts candidates to your organization, what makes them leave, and what are the latest products and trends on the platform you have implemented?
By taking part in the survey, you'll get the chance to share your thoughts on the ERP world, make your voice heard on issues around working culture, technological developments, and diversity and inclusion.
You'll also be first in line to receive a copy of the report when it's released. But we won't hold it against you if that isn't your driving motivation, because everyone who completes the survey will also be entered into a prize draw to win a $250 Amazon gift card!
Your survey responses will help us piece together the most comprehensive and accurate picture of the ERP community, and showcase the thoughts of the people who make the ERP industry a success: that's you.
Help shape the future of the ERP ecosystem and share your thoughts on:
Remote working many companies worldwide have gone 100% remote in response to the global pandemic. Does working from home impact your salary? If so, how does it differ from on-site working? Are you looking for a return to the office, either full-time or on a hybrid basis? No matter your working environment, we need your input to help employers develop policies that best support their teams.
Certification and upskilling Have you taken advantage of the increased time at home to work towards a certification? Or has time away from your screen been even more valuable? Do these certifications have any influence on your earnings? We compile all this information (and more) into a helpful report that helps you earn what you're really worth.
Perks and benefits Wonder what benefits your peers are getting? Curious if anyone else in your industry has a company car or health insurance? Your input will help us find out what benefits you are receiving (or wish you were receiving) and create a report that lets candidates benchmark their package, and lets employers know how to attract new staff.
Reporting on all corners of the ERP space and covering roles working with Epicor, Infor SyteLine, and SAP, the Washington Frank Salary Survey will be a vital touchstone to help businesses provide the best they can for their employees.
The Washington Frank Salary Survey is open for responses now. Don't miss out on being a vital voice in the evolution of the ERP community; the future really is in your hands.
Share your thoughts on the ERP ecosystem today.
Take part now to have your say and be in with the chance to win a $500 gift card!